Places to Go, See & Do - around the Salt Lake Valley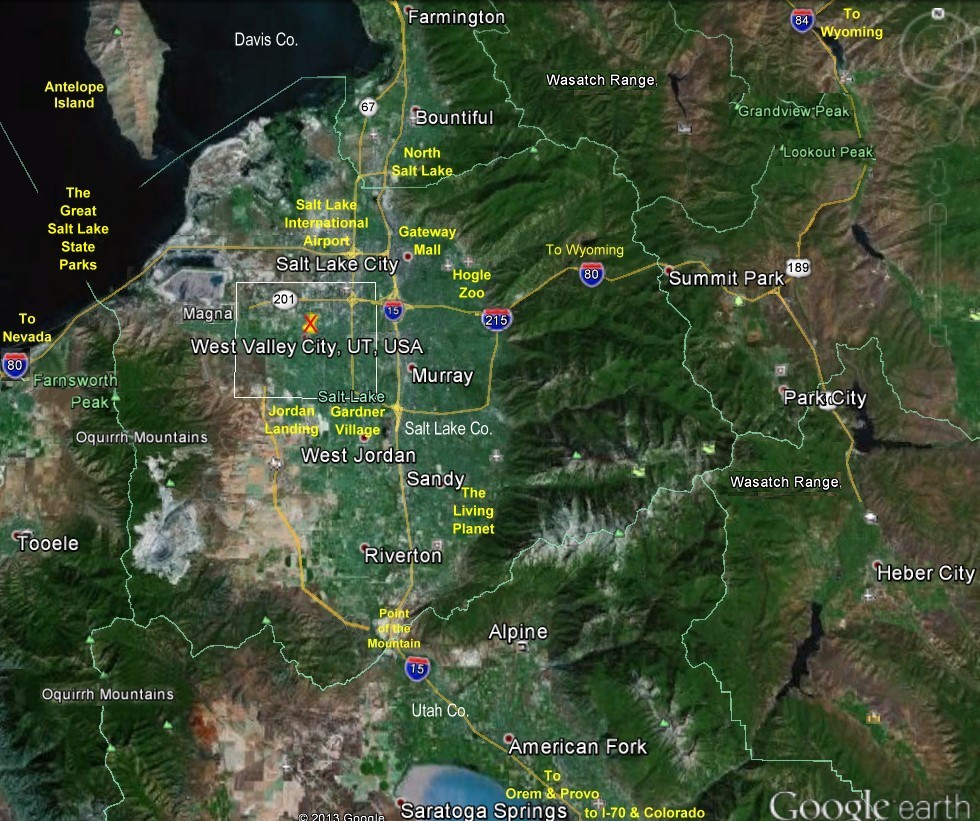 Map Updated 2 Oct 2019
The Jordan River Parkway - Legacy Parkway Trails = 55+ miles one way
Salt Lake Valley Mountain Peaks
Webcams:>> Weather | Ski Resort | North Salt Lake | Salt Lake City | Salt Lake Valley
Webcams:>> Utah Travel | Utah Weather | World Cams | U.S. State Maps
Video >> Ogden Balloon Festival in Eden UT
Links Open in New Tab/Window

Through the middle of the Salt Lake Valley is the Jordan River Parkway & Trail, now joining Legacy Parkway adding 15 more miles of trails of urban park, open year round to Walkers, Speed Walkers, Joggers, Bicyclist, skateboarders, wheelchair's, people walking their pets and children...with numerous amenities of public parks, nature/wildlife preserves, benches, grassy areas, picnic tables, pavilions, restrooms, playgrounds, parking lots, canoe marinas, off highway vehicle (OHV) area, model plane ports, and equestrian areas can be found along the trail. The Legacy Trail is joined with the Rio Grande Rail Trail clear through Roy Utah up north. These Trails link Utah County to Salt Lake County & Davis County
mouse over on the map & click on
Antelope Island, Great Salt Lake State Parks, Salt Lake International Airport
Gateway Mall, Hogle Zoo, Gardner Village, Jordan Landing
the Living Planet, Point of the Mountain, West Valley City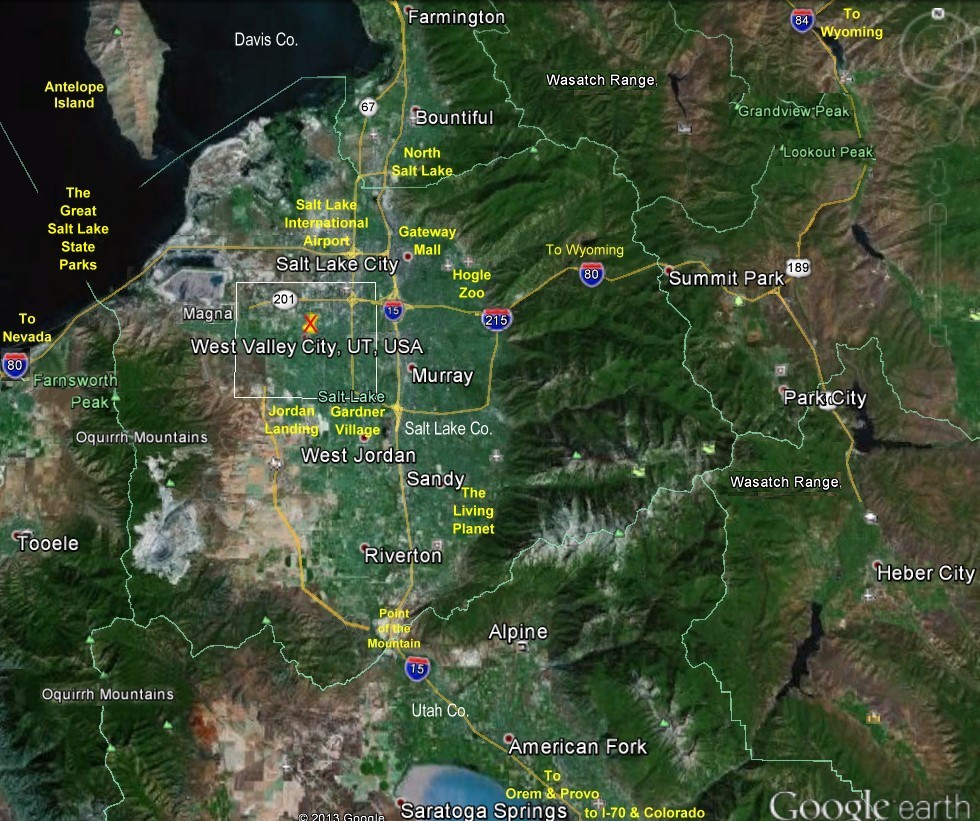 Map Updated 2 Oct 2019
The Google Earth map above presents the current state of the paved sections (green) of the Jordan River Parkway Trail as of November 17, 2009 as well as existing dirt sections (brown), suitable for hiking or mountain biking and roadway connections (red) between discontinuous trail sections. Extra features such as paved parking areas and restrooms are also shown.

The City-County Building sits between State Street, Second East, Fourth South, and Fifth South in Salt Lake City, a block called "Washington Square." Named for George Washington, the block is the site of the original 1847 Mormon pioneers' camp in Salt Lake City.

Like other blocks in Salt Lake City's original grid, Washington Square is 10 acres.
The Salt Lake City and County Building, alone in the center of the block, takes up relatively little space. Trees, walkways, and statues surround the building making Washington Square like a small park. Indeed, the block is often the site of fairs, concerts and other activities.
In July 1847 the first company reached the Salt Lake Valley, with scouts Erastus Snow and Orson Pratt entering the valley on July 21. Pratt wrote: ...we could not refrain from a shout of joy, which almost involuntarily escaped from our lips the moment this grand and lovely scenery was within our view. The two scouts undertook a twelve mile exploratory circuit into the valley before returning to the larger party.
The next day, larger segments of the valley were explored, streams and hot springs investigated and the first camp established in the Salt Lake Valley.
On July 23, Pratt offered a prayer dedicating the land to the Lord. Ground was broken, irrigation ditches were dug, and the first fields of potatoes and turnips were planted.

On July 24, Brigham Young first saw the valley from a "sick" wagon driven by his friend Wilford Woodruff. According to Woodruff, Young expressed his satisfaction in the appearance of the valley and declared "This is the right place, drive on." Today a monument stands in the spot where he made this declaration. Young later reported that he had seen the valley, including Ensign Peak, in a vision and recognized the spot.

On July 28, Young established a location for the future Salt Lake Temple and presented a city plan to the larger group for their approval.
In August 1847, Young and other selected members of the vanguard company returned to Winter Quarters. By December 1847, more than two thousand Mormons had completed the journey to the Salt Lake Valley.
I too had a vision, living in Utah one day...this came true 20 Oct 2005...D.R. "Doc" Young